Biorepository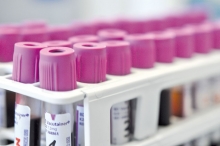 The CNAG Biorepository collects, quantifies and stores the DNA and RNA samples for sequencing requests.
We work closely with our collaborators to ensure that appropriate DNA/RNA extraction procedures are followed, to determine the sample requirements for the experiments to be conducted by the CNAG and to coordinate the sample shipment. Barcode labels and tubes are sent to the collaborators for safe tracking of samples.
At the CNAG, samples are checked for purity and integrity before processing. DNA integrity is assessed on agarose gel. The DNA QC includes detection of incidental present inhibitors by regular PCR amplification. Concentration is verified by fluorometry (Picogreen assay). RNA is subjected to rigorous quality control to monitor degradation on the Agilent 2100 Bioanalyzer and quantitated by fluorometry.
Samples are stored under highly controlled conditions and, if appropriate, distributed in several aliquots to avoid thawing and refreezing.  
Link
Sequencing Platforms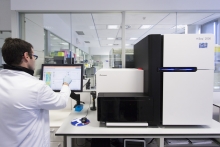 The CNAG offers researchers access to state-of-the-art methods for high throughput sequencing for a wide range of applications. The experimental workflow includes library preparation, cluster generation and sequencing.
The CNAG currently operates several different types of Illumina and Oxford Nanopore Technologies sequencers offering researchers access to cutting edge technology for high throughput sequencing for a wide range of applications.
The members of the sequencing platforms are postdoctoral research scientists, engineers, and technicians who are professionally trained and form a highly qualified team to accomplish the specialized scientific tasks of sequencing. They have established, and continue to develop, many techniques to analyze the information encrypted in genomes. The platform consists of four teams:
---
Part of the equipment is 50% co-funded with European Regional Development Funds through the "Programa Operativo FEDER Plurirregional de España (POPE) 2014-2020 (ICTS-2017-04-CRG-2)"
Data Analysis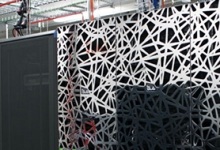 The data analysis pipeline includes more than half of the CNAG staff and it is strongly supported by an extensive informatics infrastructure.
14 petabyte of data storage, 10,000 of computing cores, an internal 56 Gb/s network and multiple 10 Gb/s direct physical connections to the Barcelona Supercomputing Center which has over 48.000 compute cores.
The CNAG provides robust state-of-the-art data analysis pipelines for Mendelian disease gene discovery, complex disease gene identification, somatic variant identification, de novo genome assembly, differential gene expression, identification of novel spliced isoforms, cytosinemethylation analysis and epigenetic analysis, among others. Final data is done by our in-house bioinformatic teams or by collaborators hosted on site.
The focus of these collaborations is the delivery of results from the analysis of the sequecing data.
Several bioinformatic teams develop methods for different kinds of applications and support the analysis of large-scale sequencing data:
---
Part of the equipment is 50% co-funded with European Regional Development Funds through the "Programa Operatiu FEDER de Catalunya 2014-2020 (IU16-006344 and IU16-007022)