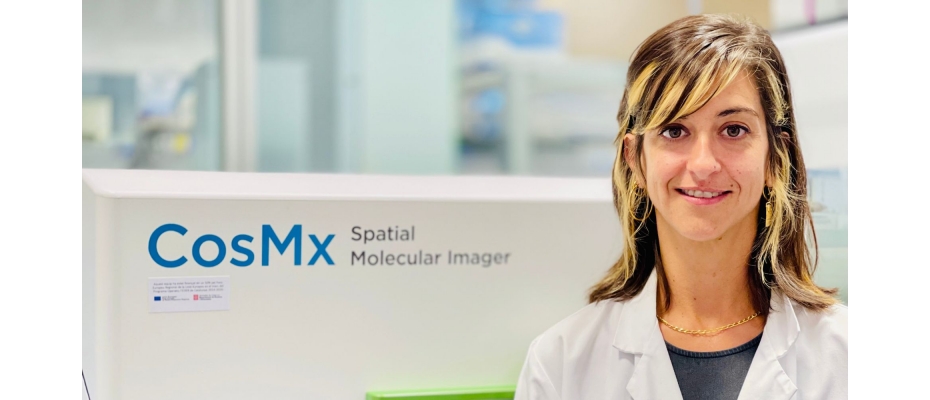 According to our commitment to people's health and quality of life, the CNAG has taken a further step towards developing the Spatial Genomics Team, a highly innovative field in Single Cell Genomics whose main objective is to study the content and expression of the genome gene expression within its spatial context and retaining an intact tissue architecture. With this information, researchers can identify cells in their native tissues, study the cellular interactions occurring in a biological context and identify the possible variations between healthy tissues or pathological conditions. From these analyses of human tissues, the Spatial Genomics Team could contribute to the diagnosis and treatment of diseases such as cancer or viral infections. With the aim of increasing our expertise in this area and continue to provide new supports to hospitals, clinical and research centers, the CNAG has incorporated the Spatial Inmunologist Anna Pascual, as the Spatial Genomics Team Leader, with a highly expertise in tissue immunology and bioimage analysis.
Her career started at the University of Barcelona, where Anna Pascual obtained her Bachelor degrees in Biology and Biochemistry and her Master degree in Biomedicine. After completing her studies, the immunologist moved to Berlin to provide her services as a graduate student in the Neuroimmunology department of the German Rheumatism Research Center and received her PhD from the Department of Biology, Chemistry and Pharmacy of the Free University of Berlin. As a postdoctoral researcher in the Immune Dynamics group at the Charité-Berlin University of Medicine, her research focused on the in-depth and spatially resolved analysis of local immune responses using state-of-the-art Spatial Tissue Profiling techniques. Her main achievement was the characterization of distinct tissue niches, both at the protein and transcriptional level, as self-organized functional units that modulate local immunity and dictate tissue homeostasis and disease.
After 12 years in Germany in public research centers consolidating her career as spatial inmunologist, Anna Pascual starts now as the Spatial Genomics Team Leader at CNAG. For the organisation, this is a commitment to young talent and highly specialised profiles, also promoting gender equality in the scientific field. A new challenge that Anna Pascual faces with large doses of energy:
In the words of Anna Pascual: "I want to share my enthusiasm and curiosity for Spatial Tissue Profiling and highlight its power to advance our understanding of tissue (immuno)pathology".
The main mission of the Spatial Genomics Team is to establish Spatial Transcriptomics and other Spatial Tissue Profiling techniques as standard tools for next-generation pathology. The team will work towards implementing these in clinical settings to fully exploit the substantial prognostic value that tissue resections and biopsies possess. With that, the team aims to identify novel diagnostic markers of disease, targets for disease prevention and therapeutic intervention and predictive biomarkers for immunotherapy response. A breakthrough for CNAG that contribute to maintain its leadership as the national center for genomic analysis and a worldwide reference.