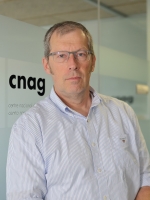 Ivo G. Gut took on the direction of CNAG in January 2010. He leads the Biomedical Genomics group.
He qualified in Chemistry at the University of Basel in 1985 and obtained a PhD in Physical Chemistry from the same university in 1990. Then he joined the research group of Prof. Irene Kochevar at Harvard Medical School as a research fellow. Between 1993 and 1996 he was research fellow with Dr. Stephan Beck at the Imperial Cancer Research Fund in London. Later, at the Max-Planck-Institute for Molecular Genetics he led a group in theDepartment for Vertebrate Genomics of Prof. Hans Lehrach. From 1999 to 2009 he established, at the Centre National de Génotypage (CNG), the highest throughput genotyping platform in Europe, where he executed many genome-wide association studies and was the coordinator of the 12M€ EU FP7-funded Integrated Project READNA in which 2nd, 3rd and 4th generation nucleic acid analysis technologies were developed.
He is principal investigator of several ongoing EU-funded projects and was coordinator of the RD-Connect EU project, an integrated platform connecting registries, biobanks and clinical bioinformatics for rare disease research. Currently, he coordinates EASI-Genomics, a 10M€ H2020-EU Infrastructure Project. He is very active in large international projects and consortia such as the International Cancer Genome Consortium (ICGC), the International Human Genome Consortium (IHEC), and the International Rare Disease Research Consortium (IRDiRC). He is author of more than 500 research papers, 11 reviews and 12 book chapters, cited over 48,000 times, inventor of 25 patents or patent applications, founder of 4 biotech start-ups, and serves on numerous international advisory boards.