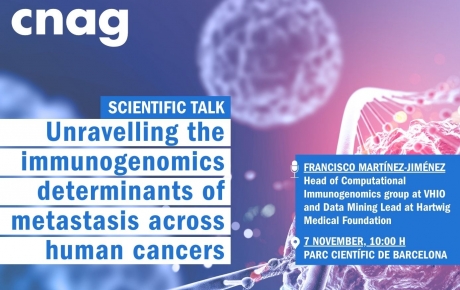 Tuesday 7 November
Aula Fèlix Serratosa (Parc Científic de Barcelona)
SCIENTIFIC TALK
"Unravelling the immunogenomics determinants of metastasis across human cancers"
By Francisco Martínez-Jiménez
Head of Computational Immunogenomics group at VHIO and Data Mining Lead at Hartwig Medical Foundation
ABSTRACT
Discover the latest immunogenomic research that examines the key differences between primary and metastatic tumors.
Their study analyzed more than 6,000 tumor-normal paired whole-genome sequenced patients across 23 cancer types to uncover multiple aspects of tumorigenesis, including tumor karyotype, tumor heterogeneity, mutational signature differences, structural variants burden, genetic immune escape events, and treatment-enriched drivers. Francisco Martínez-Jiménez will delve into the discoveries we've made and discuss how this knowledge can help us understand tumor evolution and develop better treatments for metastatic tumors.
ORGANISED BY CNAG