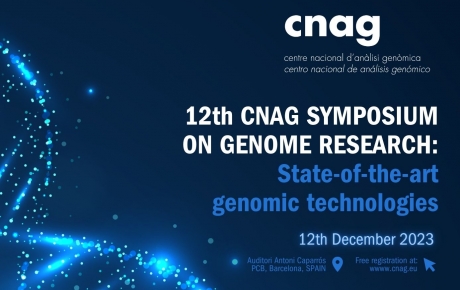 Tuesday December 12 2023
Antoni Caparrós Auditorium (Barcelona Science Park)
IN-PERSON Symposium!
Genomics is an amazing new science. The complete genetic map of a species, or genome, is a source of extremely valuable information, with a wide variety of applications in important fields such as biology or medicine. In 2003, science succeeded in obtaining the first complete human genome, after almost 20 years of intensive international research. Luckily, due to the last developments of the genomic technologies, the process to assembly a genome has been reduced to days, even to hours. The future of genomics is advancing at great speed, breaking down barriers that bring us closer to solving problems like understanding disease susceptibility, initiation, progression and treatment. Join us to learn about the most recent genomic technologies. 
In this meeting we present the opportunity to discover more about the cutting-edge genomic technologies and, most importantly, their useful and multiple applications, directly from the researchers own voice who will share their latest projects and results.
SPEAKERS
- Alexandra Avgustinova, Institut de Recerca Sant Joan de Déu (IRSJD)
- Iosune Baraibar, Vall d'Hebron Instituto de Oncología (VHIO)
- Margarida Barceló, Institut Mediterrani d'Estudis Avançats, IMEDEA (UIB-CSIC)
- Astrid Böhne, Leibniz Institute for the Analysis of Biodiversity Change, Museum Koenig
- Daniel Fordham, Oxford Nanopore Technologies
- Pietro Gatti, Illumina
- Marta Gut, Centro Nacional de Análisis Genómico (CNAG) 
- Holger Heyn, Centro Nacional de Análisis Genómico (CNAG) 
- Rita Horvath, University of Cambridge 
- Susan Kloet, Leiden University Medical Center (LUMC)
- Marc A. Martí-Renom, Centro Nacional de Análisis Genómico (CNAG) 
- Anna Pascual, Centro Nacional de Análisis Genómico (CNAG)
- Azucena Salas, Fundació de Recerca Clínic Barcelona - Institut d'Investigacions Biomèdiques August Pi i Sunyer (FRCB-IDIBAPS)