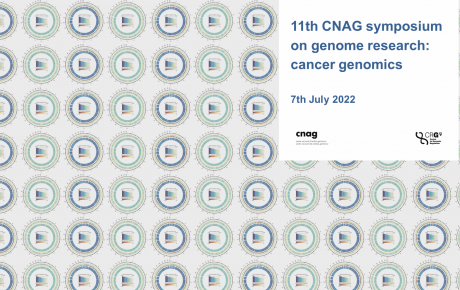 Thursday July 7 2022
Antoni Caparrós Auditorium (Barcelona Science Park)
IN-PERSON Symposium!
Cancer is a disease of the genome. It starts with a change in the genome of an individual cell that allows that cell to divide and grow uncontrollably.

To understand the changes that drive cancer, it is necessary to generate the sequence of all these letters from both, the tumor and the healthy cells from the same patient and compare them. But there is another factor that complicates matters: cancers in different patients involve changes in different places of the genome even with the same clinical form of cancer. Knowing and understanding these differences is crucial to provide accurate diagnosis and better treatments to patients.
In this meeting we will bring together scientists working in cancer genomics who will present their latest research discoveries and ideas on the topic.
Speakers
Elias Campo, IDIBAPS, Hospital Clínic de Barcelona
Talia Velasco, Josep Carreras Leukaemia Research Institute
Núria López-Bigas, Institute for Research in Biomedicine
Alena Gros, Vall d'Hebron Institute of Oncology
Anna Babayan, Illumina
Holger Heyn, Centro Nacional de Análisis Genómico
Marjanka Schmidt, The Netherlands Cancer Institute
Marta Pineda, Bellvitge Biomedical Research Institute
Jaime Font de Mora, Health Research Institute Hospital La Fe
Jordi Esteve, IDIBAPS, Hospital Clínic de Barcelona
Sponsored by: